October Holiday Care - Time Travel and Space Exploration
22-26 October, 10% early booking discount if you book by Mon 8 October.
We have a packed week of time travel inspired and space exploration themed activities for the children to enjoy at Kidszone October Holiday Care.
Monday
We create our own time travelling space ship in our role play area and create our own space and time travel adventures, make space helmets and outside will be den making, alien goo and meteor badminton.
Tuesday
Design our own new planets using junk modelling, go on an alien egg hunt outside, make jet packs using plastic bottles and have space ship themed races.
Wednesday
Movie making day where we make our own salt dough characters, scenes and props in the morning to film in our stop motion animation movies in the afternoon. Plus we will have a go at walking like an alien and playing 'pass the meteor before it explodes' game… (no real explosions!)
Thursday
In the morning we make mini aliens and create sand foam, and then in the afternoon the 'Wonder Dome' - an inflatable mobile planetarium visits us for an afternoon of space exploration. The Scout Hut has never seen anything like this……
Friday
Dress like a time lord day, where the children can create their own time traveller fashion, we will bake time machine shortbread, play the alien abduction game, create Hama bead space art and play alien tig outside.
As always the children can choose how much of the themed activities they join in with and throughout each day there will be Lego, Wii console, books, board games and lots of outdoor play equipment available.
If you would like to enquire about a place, please complete our online enquiry form or email Luciana on This email address is being protected from spambots. You need JavaScript enabled to view it.
Please ensure you have confirmed your requirements by 8 October in order to qualify for the early booking discount of 10%.
---

Summer Holiday Care - Mad, Wild, Fun and Medieval!
We had four weeks of fun this summer:
Week 1 - Mad Hatters
Inspired by Alice In Wonderland this week was packed full of weird and wonderful games, activities and of course a tea party. We had a children's yoga session inspired by Alice's adventures and delivered by Sara Lucarelli of Yogi Life who is a children's yoga expert. And we visited Tatton Park and their maze and had a great time seeing who could find their way out.
Week 2 - Wild Things
Wild Things was our theme for the week and we had animal handling including spiders, snakes and lizards plus Wise Owl birds of prey team visited us and the children got to hold real owls, hawks and kestrels and see them fly off and come back to land on their hand.
Week 3 - Comedy
In Comedy week we had a improvised comedy workshop with ComedySportz ,we learned joke writing skills and will created some crazy fun games and had some general clowining around - all in the name of comedy.
Week 4 - Knights and Castles
This week we visited Beeston Castle, created thrones for king and queen in our role play area, lots of medieval dressing up, crafts and had a bouncy castle to end the summer!
---
May Half Term Holiday Care - Master Chef Week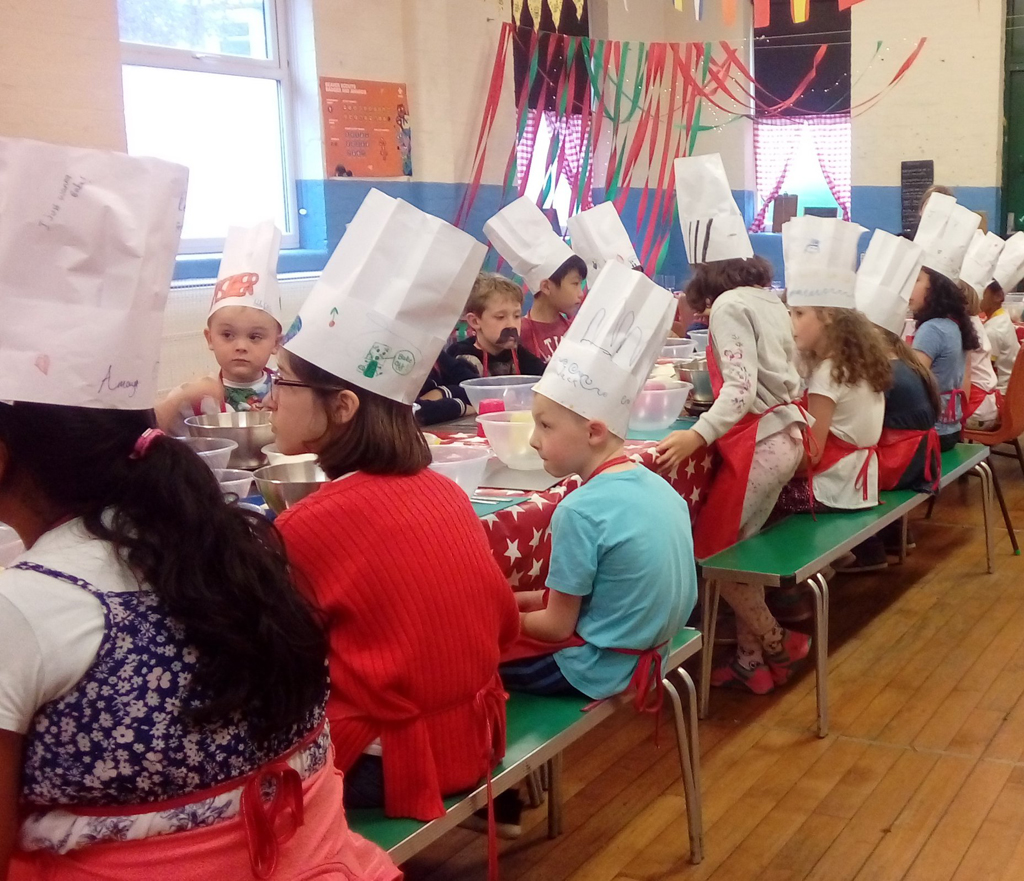 As the children absolutely love cooking, we decided to have a 'Master Chef' week inspired by cookery and ingredients, with a cooking activity every day.
Here was our daily menu:
Tuesday - We created our own Italian restaurant and kitchen role play area and played 'set the table' team games and had fun outside with popcorn relays. In the afternoon we baked vegetarian muffins and played some food based fun and games outdoors to get us running around such as the pea and (paper) straw game.
Wednesday - We had a taste test challenge where everyone got to be challengers and testers and we painted with food to create some amazing art. Outdoors we played 'what's the food?' by feeling the shape of items in the sack and in the afternoon the children took part in a cookery workshop specially designed for Kidszone and run by Sarah from 'Cook Stars' where the children made their own sweet bake from scratch and will made an edible necklace too.
Thursday - Handmade pasta making in the morning with our very own Luciana and then we moved on to making rice sculptures outside. In the afternoon we went on a picnic to the park, and played team games.
Friday - It was Bake Off day with a carrot cake challenge. We designed and made carrot cakes and then decorated them in the afternoon using icing and piping bags. We also learned how to fold napkins into many different shapes and played a fruit salad circle game and took part in the balance challenge (involving food of course!).
---
Easter Holiday Care

Easter Week 1 - Chocolate Week
- We found out about the history of chocolate through fun Aztec activities
- Created our own chocolate shop
- Made a Willy Wonka inspired garden
- Went on a golden ticket hunt
- Created our own chocolate treats at a chocolate workshop, delivered by chocolate experts!

Easter Week 2 - Elements of Nature
- This was a week full of messy play and fun investigation
- We made our own kites and flew them
- Built a mini water park
- Created fire inspired art
- Got muddy with soil experiments
- Went on a trip to the Museum of Science and Industry
---
Ahoy there!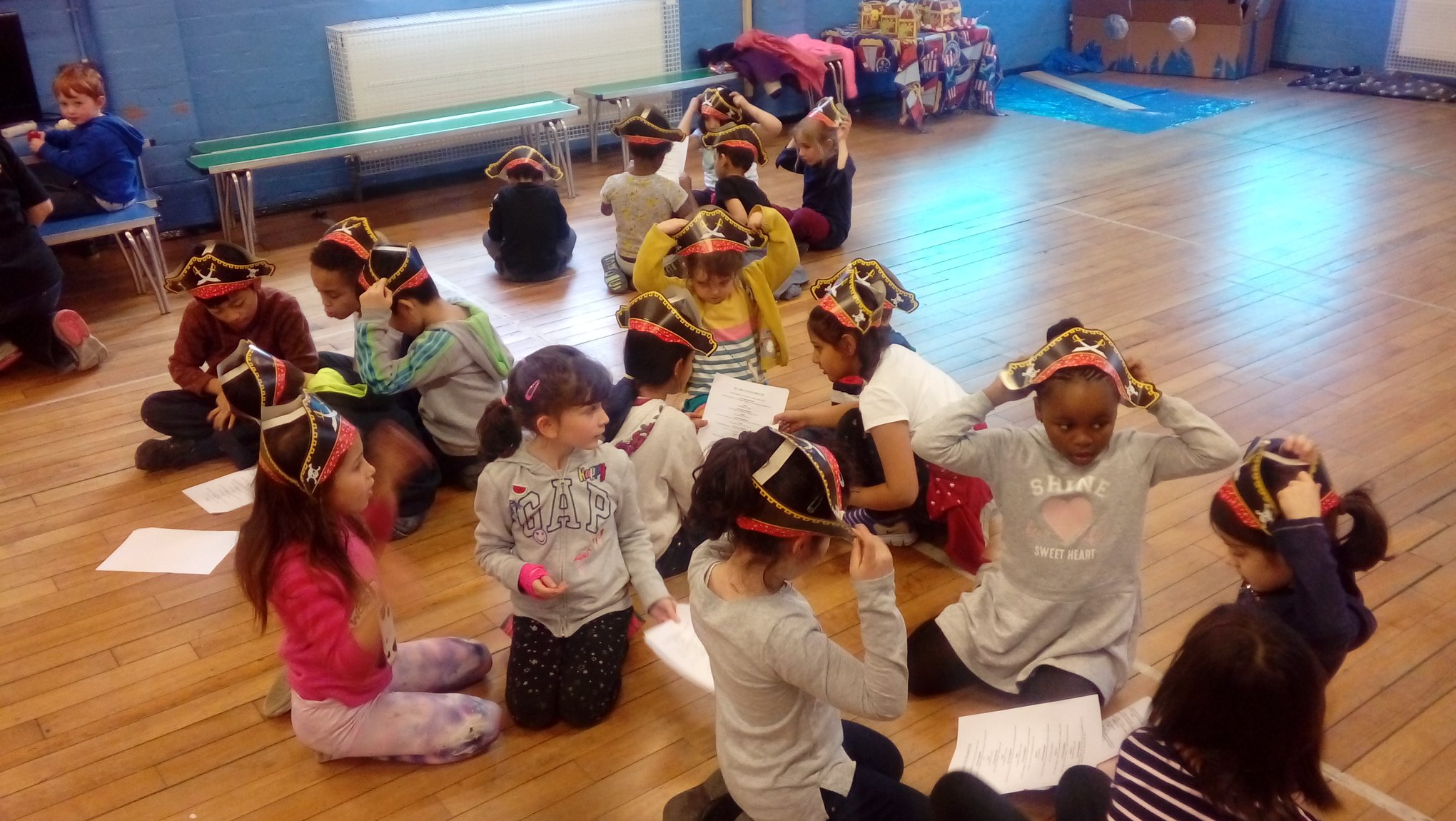 It was Pirate week in February half term at Kidszone holiday care and we had an action packed week of swashbuckling adventures!
Monday - We built a pirate ship inside the scout hut and had a go at walking the plank, plus we made our own parrots to take home.
Tuesday - We went on a trip to Tenpin bowling alley at Parrs Wood entertainment centre and in the afternoon we created skull and crossbone crafts.
Wednesday - The Great Pirate Bake Off! We baked pirate themed biscuits and decorated them, plus we had a cannon ball tossing game outside and more walking the plank fun...
Thursday - We made amazing shrinking pirate themed key rings and after lunch the fantastic Footlights Theatre came in and ran a fun pirate workshop where the children acted out a pirate story as mermaids, pirates and captains - it was so much fun and everyone played a part.
Friday - We made telescopes to take home and we had a treasure hunt - using map reading skills to help us find the hidden treasure.
For pictures see our Facebook page.